Places to visit in Andover (Letters show location on Map):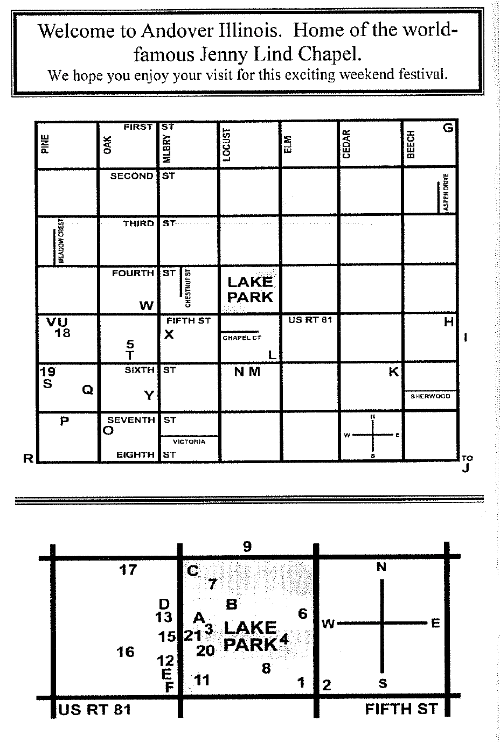 A - Site of Andover's first two-story school - built In 1858.
B - Jail built In early 1900's to replace old colony jail.
C - Andover Terrible Swedes ball diamond named in honor of this famous team.
D - Historic house built in 1861 by August Rehnstrom. Now the home ff the Andover Historical Museum (a national historic site).
E - American Woman's League house built In 1911 (a national historic site).
F - Historic business bldg. Built In 1856 (upstairs Carlson Bros. Hall & Stage built in 1910 & Tourist Information.
G - Colony brick house - built In 1854. It Served as haven for Swedish immigrants.
H - Presbyterian Cemetery - established in the 1830's. (Andover's founder buried here).
I - Old South Andover-Peoria Stagecoach Road.
J - Site of Edwards River Mill - built In 1836. It Was Henry County's first industry.
K - William s. Woolsey House and underground railroad site - built in 1838.
L - Home Of Andover's founder - Rev. Ithamar Pillsbury.
M - Andover Presbyterian church site - built 1856. Congregation started in 1838.
N - Andover steam mill - built 1838. And Old Tavern Site - built in 1879.
O - Completed in 1864, this building served the Swedish Methodist Congregation, Organized in 1849.
P - Old Swedish Methodist Cemetery - established in the 1850's.
Q - Second Lutheran Parsonage - 1876-1960.
R - Mix-Lobeck House Site - 1837.
S - Jenny Lind Chapel 1850 (a national historic site).
T - Augustana Lutheran Church - 1870.
U - Memorial marker for Andover cholera victims who died in the Mid 1800's.
V - Directions to the information marker for the Andover Children's Home.
W - The largest cucumber magnolia tree north of Springfield, IL.
X - First Swedish Methodist parsonage in the world - built In 1855.
Y - Built in 1927, this structure housed the Andover grade & High Schools.